Utstilling Svenstavik 1.-2. august/Conformation Svenstavik August 1-2nd 2009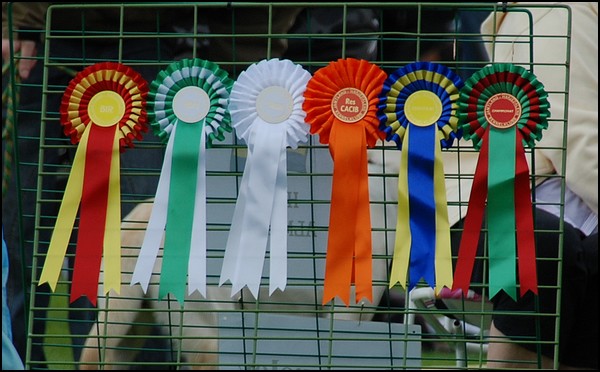 Her henger de - godbitene
Here they are - the goodies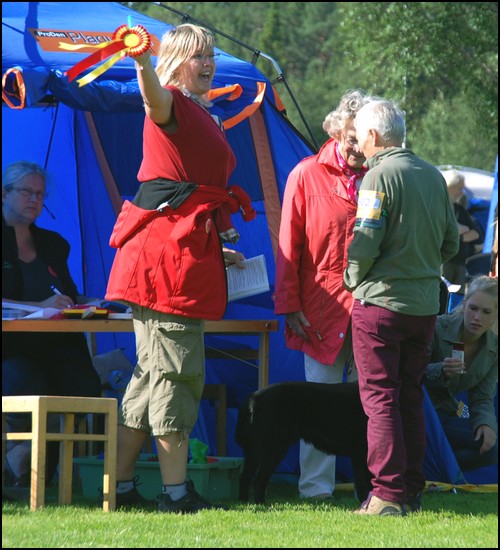 Birgits kelpie Drox blir BIR i naboringen!
Birgit`s kelpie Drox is BOB in the ring next to ours!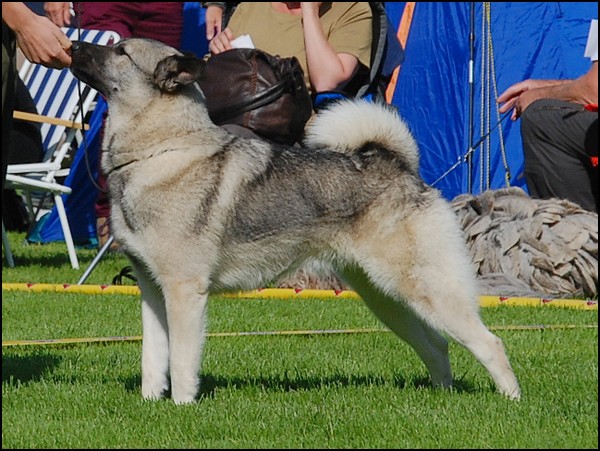 Mauser er i ringen for første gang i sitt liv, og viser seg godt!
Mauser has entered the showring for the first time, and he shows himself very well!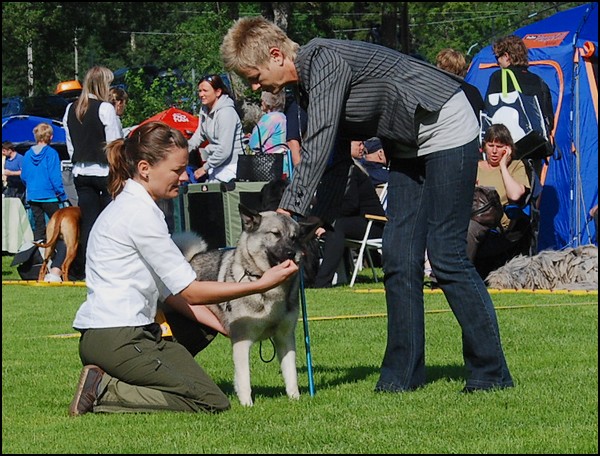 Alle elghunder måles, men Mauser er mer fokusert på godisen
All the N. Elkhounds are measured, but Mauser is more focused on the treat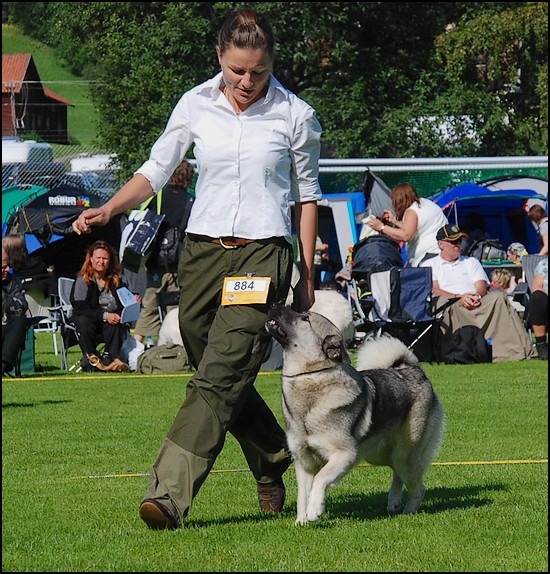 I ringen er han "mattes" gutt!
In the showring he`s "mummy`s boy"!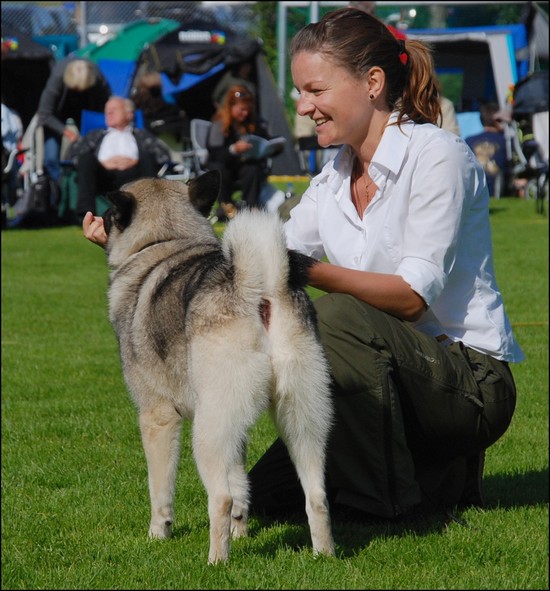 Flinke gutten! Man kan ikke annet enn å kose seg når den ellers så livlige gutten står så bra
Good boy! You can`t do anything but enjoy when this lively fellow`s posing like this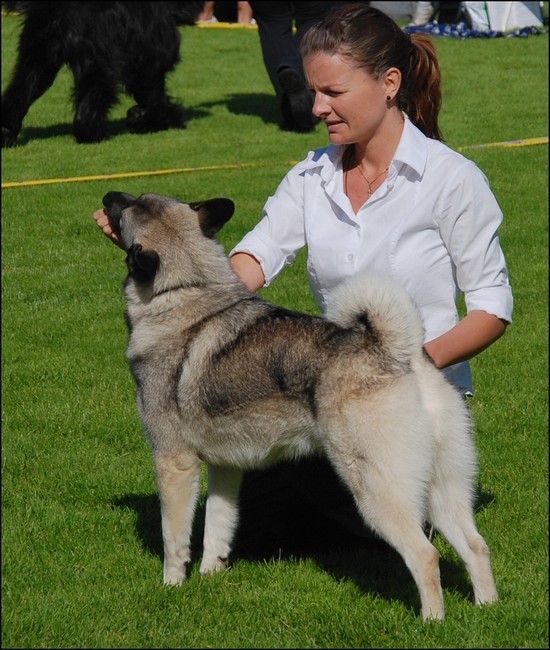 Full fokus fra begge to...
Both seem to be focused...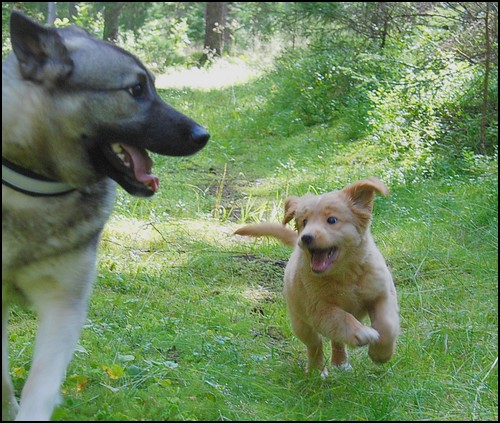 Vill fart i skogen etter en vel overstått utstillingsdag
Full speed in the woods after a day of shows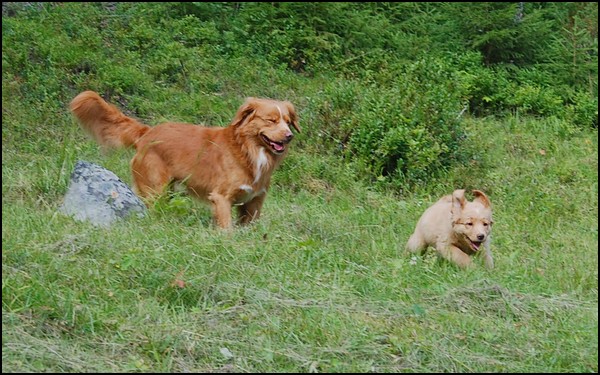 Emil i ferd med å le seg skakk av sin datter..?
Emil laughing of his naughty daughter..?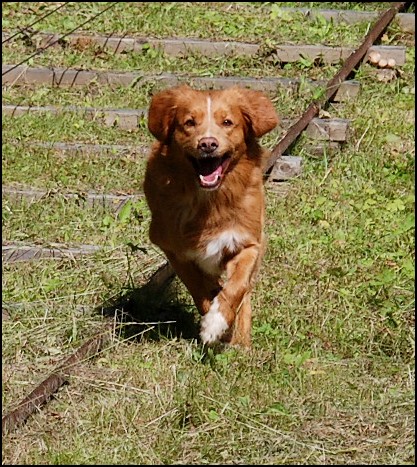 Vi fant en skytebane med elgblink på skinner, og Emil måtte teste ut elgens "tog-riller"
Vi found a place where you can shoot elks moving on rails, which Emil had to check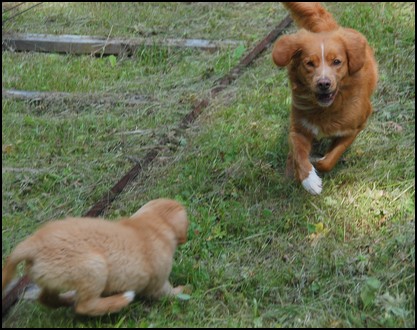 Men ooops! Angrep på vei fra siden!
But ooops! Attack from the left!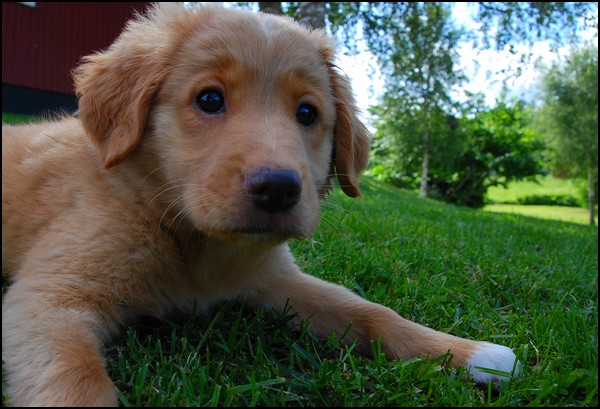 Uskyldigheten selv
Innocence herself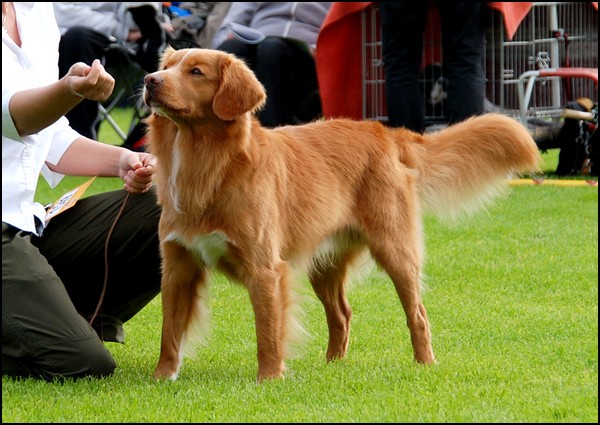 Emil i ringen på søndag. Fortsatt søt selv uten hår på brystet..!
Emil in the showring on Sunday. Still looking cute even with the lack of an heary chest..!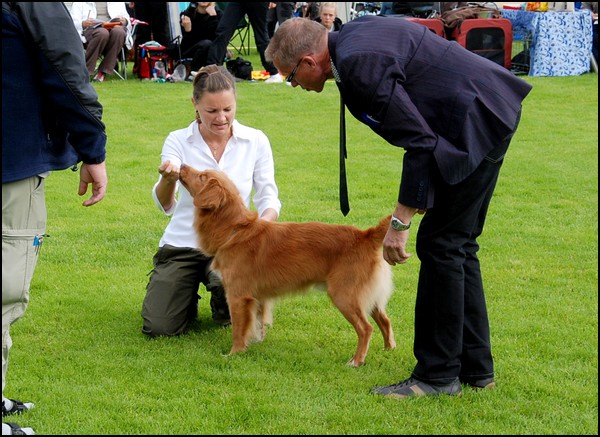 En meget nøye dommer og dommerelev
A very thorough judge and student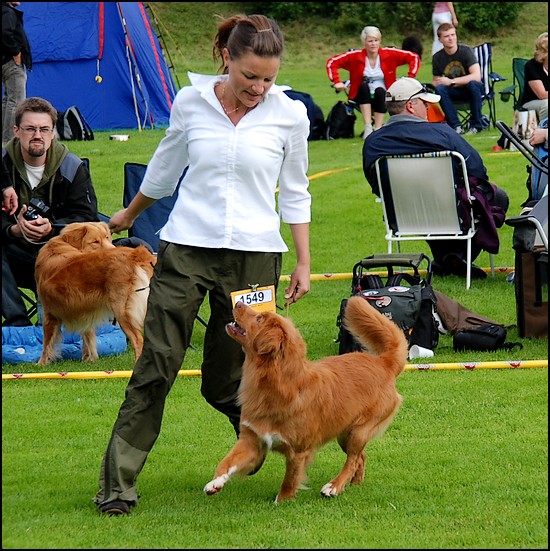 Kontakten er såvisst til stede, og glad er jeg for det
The connection is certainly there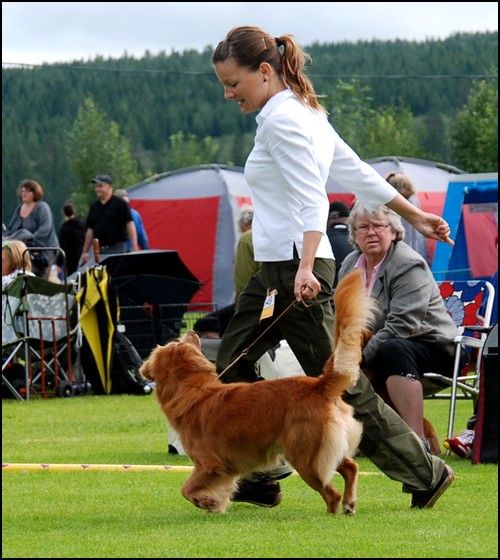 Runde to...
Second lap...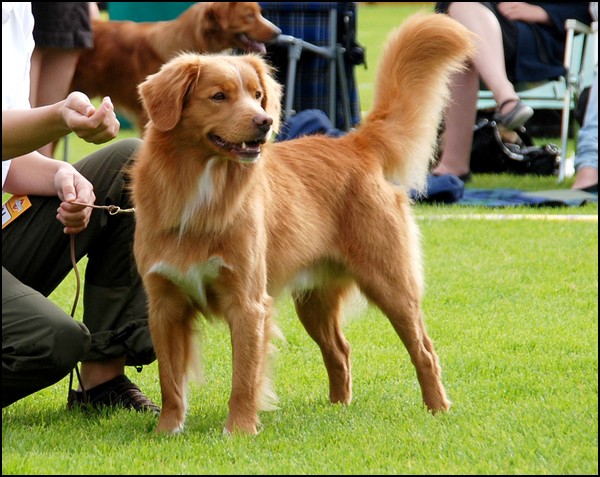 Næh! Hva skjer der da?
Aha! What`s going on over there?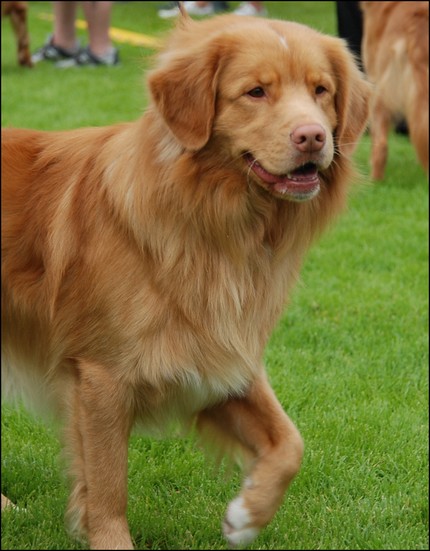 Tollarlundens Prince-Morrison: som snytt ut av snuten på sin far Shanty, men hadde for mye pels og ble for grovbygd for denne dommeren
Tollarlundens Prince-Morrison: looking just like his dad Shanty, but was too heary and heavy built for this judge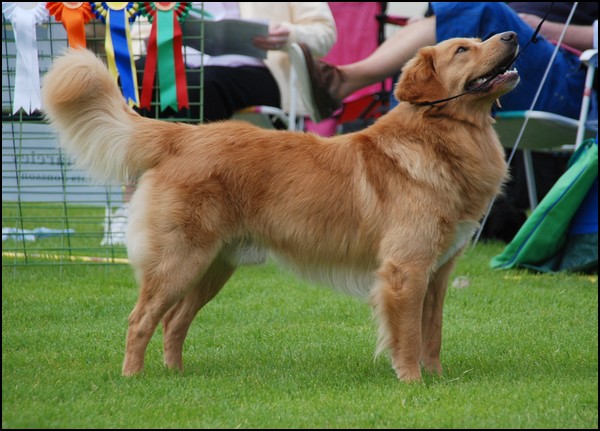 Tuvalyckans Brasse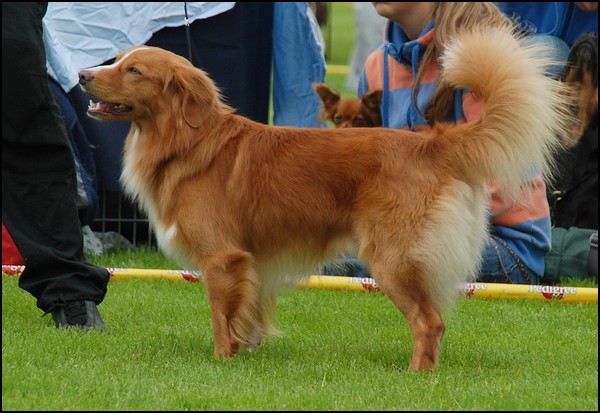 Min personlige favoritt for dagen: Tollarbos Nacho På Ehmilsvis (som ble 2BHKL og fikk cert)
My personal favourite for the day: Tollarbos Nacho På Ehmilsvis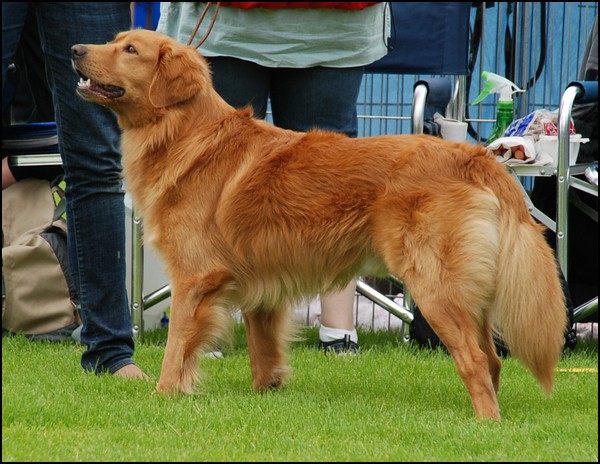 Hummelviksgårdens Duck Hunting Ozzy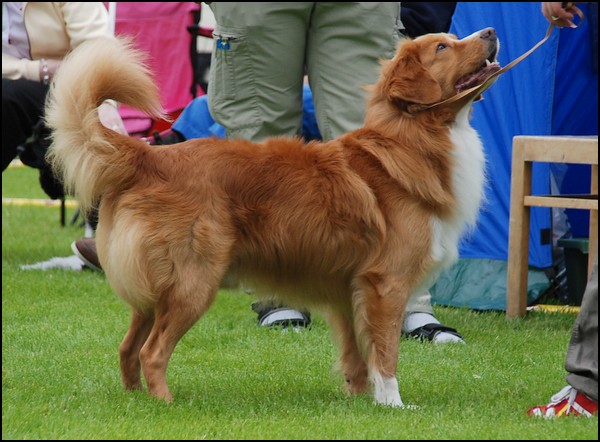 BIR ble Rödrävens Spårsnö! Grattis grattis!
BOB was Rödrävens Spårsnö!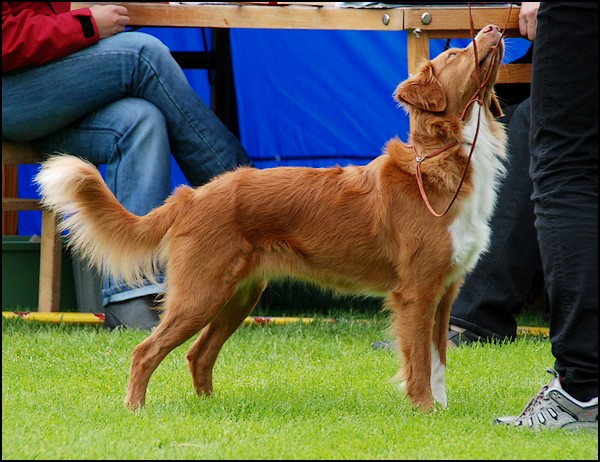 En fantastiske vakker tispe i mine øyne, Sally (E: Working Beauty`s Ambitious Ace & U: Matilda)
A magnificent bitch in my opinion, Sally

© Stene